Our planetary gearboxes deliver top performance
Enormous forces are applied when special-purpose machines are used to form and swage heavy wire sections. Schmale Maschinenbau GmbH relies consistently on servo gearboxes made by WITTENSTEIN to do the job.
High-tech systems for the most challenging tasks
Engineering leaders choose servo technology
Electric drives offer clear benefits compared to hydraulic alternatives: they are cleaner, quieter, more efficient and easier to handle. What's more, hydraulic systems invariably have to be filled, bled and cleaned – quite apart from the problem of disposing of the hydraulic oil. Yet the advantages of servo technology are even more convincing when it comes to productivity, however: more flexibility as regards product variants and controllability, more precision because programming is electronic and more productivity because set-up times are reduced to minimum. It's no wonder Schmale has sworn by servo technology from WITTENSTEIN for years now.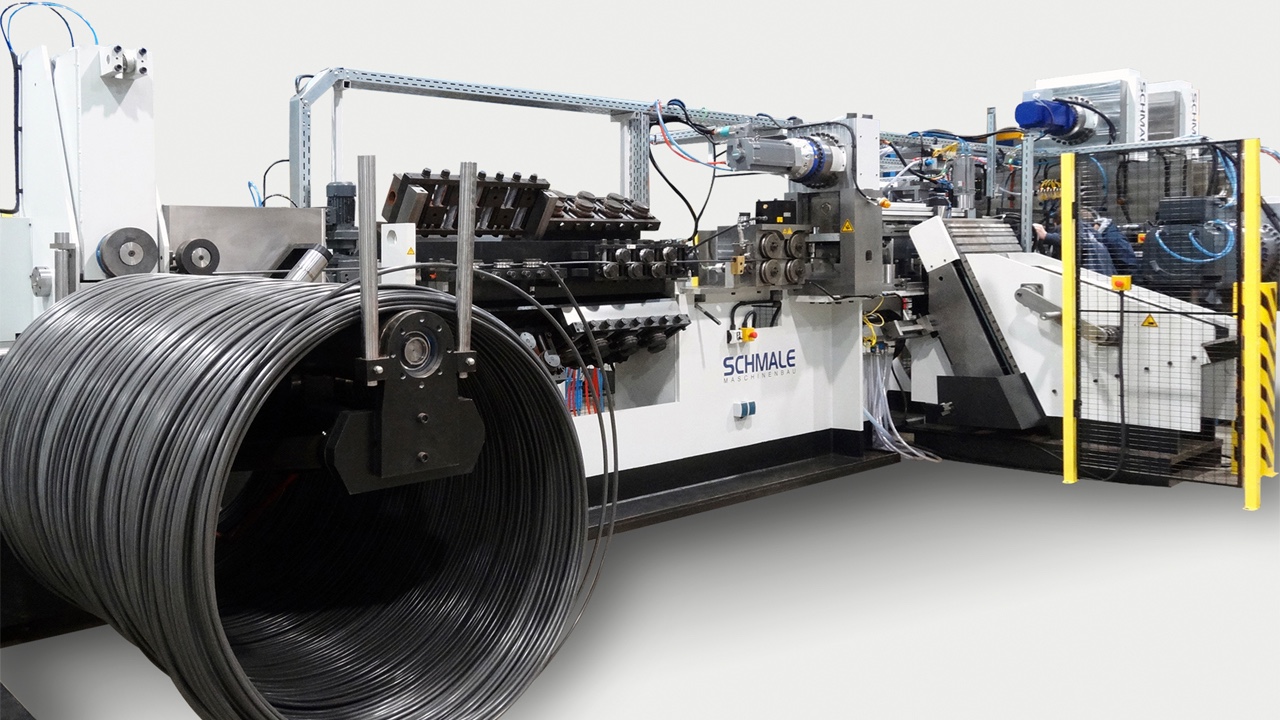 Perfect-fit solutions designed by Schmale
Schmale Maschinenbau GmbH of Altena (Germany) is a specialist, technology based planner of forming lines for wire, pipe and strip machining. The company sees itself as an engineering consultant that also builds machines – and designs perfect-fit solution packages for any production-related challenge. A modular system allows different manufacturing technologies to be combined for maximum individuality and efficiency. At the same time, Schmale is open to innovation, as demonstrated by the consistent development and integration of servo technology in its machines.
Servo technology all along the production line
A whole series of handling and processing steps are necessary to turn 10 or 20 mm diameter wire into safety components which are approved as construction materials. The decoiler developed by Schmale for feeding the wire from the coil can support weights of up to three tons and is controlled by the cycle time. At the next station, a revolver straightener with six tracks straightens the wire – and thus ensures quick changeover to different diameters. A servo feeding roll feeds the wire absolutely precisely. The wire is subsequently supplied to an induction unit, where the ends of the rods can be heated to as much as 1000°C. A servo driven linear transfer system then delivers the cut wire sections to the first press stage for forming. Servo gearboxes belonging to our SP+ and TP+ product families guarantee the highest possible dynamics and precision here. The high power density permits space saving integration of the units in the machine.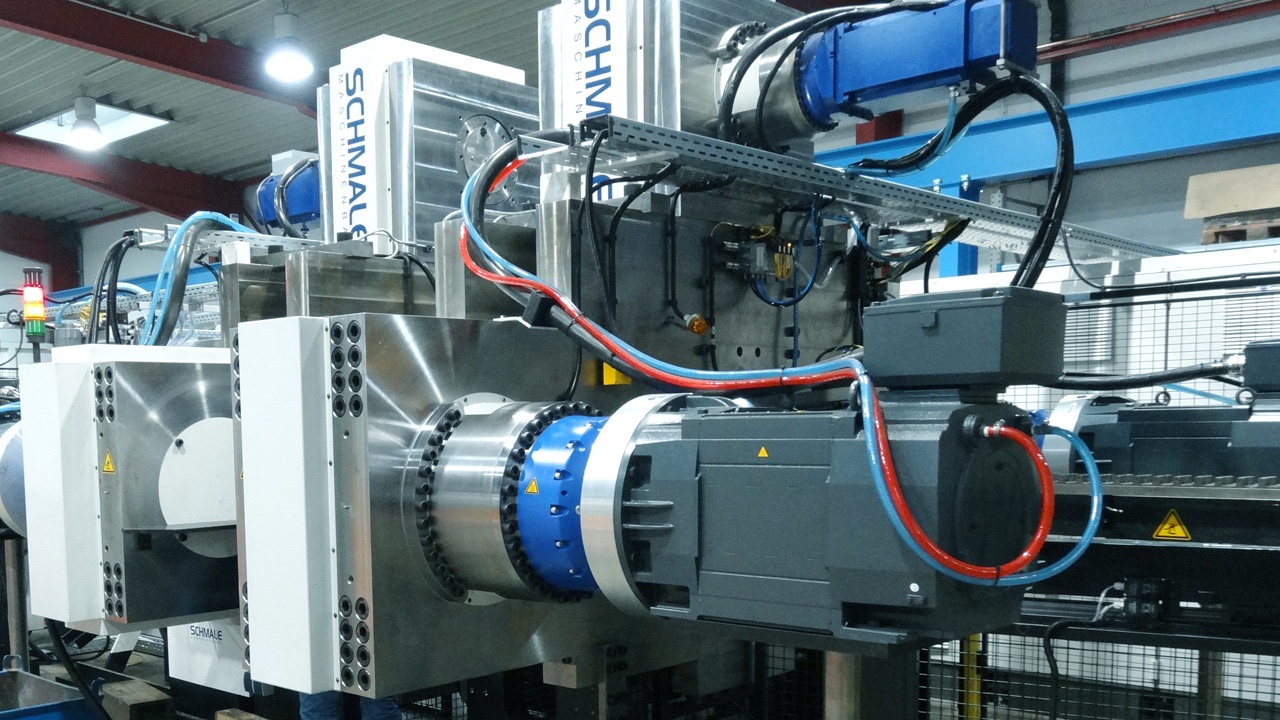 Our planetary gearboxes open up new horizons
The last press station is divided into two sections for pre-pressing and final pressing. Heads up to 60 mm in diameter are achieved here at the rod ends as a result of the enormous forming forces. Whereas the three axes of the pre-swaging stages each produce 2000 kN, the figure for the two axes of the finish-swaging stage is 3000 kN. Much larger equipment would be necessary to build up this kind of pressure with a hydraulic system. Schmale prefers to rely on flexible power transmission using WITTENSTEIN servo actuators. The result: high drive power from a very small effective area.
More of everything from the TP+ 4000 HIGH TORQUE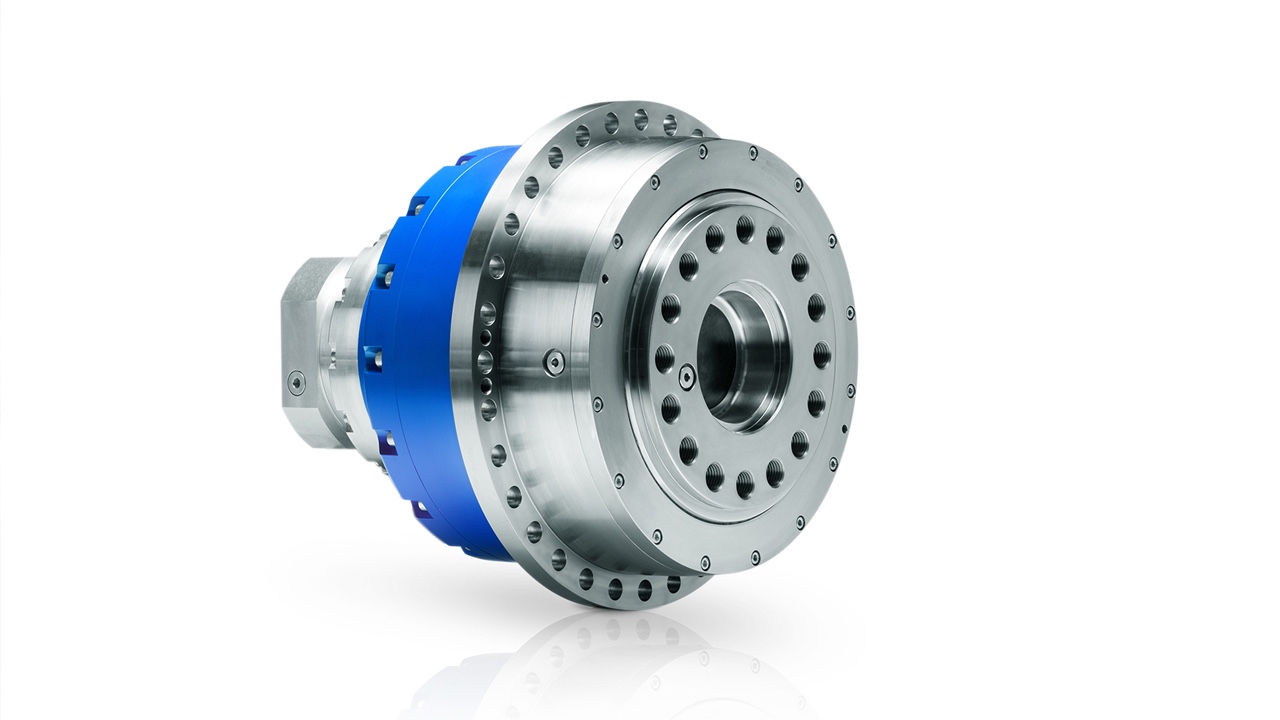 With their absolute power and power density, our TP+ 4000 HIGH TORQUE planetary gearboxes are the ideal choice for this press. 530 millimeters in diameter and 540 millimeters long, they transmit torques up to 40,000 Nm highly dynamically in a very small space envelope. Four of our units are installed altogether in the double swaging press – two for the pre-swaging process and two for finish-swaging. The huge torques involved here could previously only be attained using hydraulic drives. The benefits of servo technology – such as lower running costs, higher operating efficiency, up to 15 percent more productivity and better energy efficiency – can now also be leveraged for this application. In combination with regenerative rectifiers, energy consumption is up to 73 percent lower.