Training and studies at WITTENSTEIN
We offer high-quality trainings in over 20 modern career profiles or degree programs in cooperative education. In this process, we make you "technically fit" and build your individual, social and methodological competencies along with you. In our "Come Together" week, you will get to know other trainees, fellow students and your instructors. To provide you with a strong foundation for your career, you will receive regular professional instruction. After completing your training, you can take part in the programm "pioneers hit the road" to gain valuable experience abroad.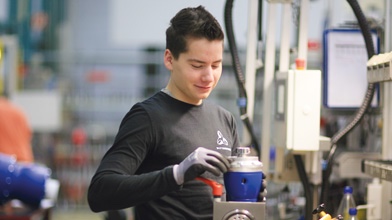 In principle, training programs last from three to three and a half years. During this time, you go through different departments, in order to learn about their interrelations and acquire an overall picture. This also includes the possibility of working abroad. You benefit from a long tradition of training: Qualified instructors not only impart their technical knowledge, they also support your personal development. The atmosphere in our organization is characterized by proximity and cooperation. We are always open to listening to your questions and needs. The prerequisite is a high school diploma ("Hauptschulabschluss" or "Realschul­abschluss").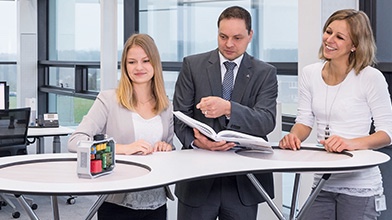 In partnership with Baden-Württemberg Cooperative State University, we offer three-year work/study Bachelor's programs. Your studies alternate between practical study in the company and one quarter of theory at the university. Depending on the field, the possible study locations are Mannheim, Mosbach, Bad Mergentheim, Heilbronn and Stuttgart. The prerequisites are the general university entrance qualification ("allgemeine Hochschulreife"), the special university entrance qualification ("fachgebundene Hochschulreife"), or the technical college entrance qualification ("Fachhochschulreife") plus a passing grade on the Scholastic Aptitude Test ("Studierfähigkeitstest") of the Baden-Württemberg Cooperative State University.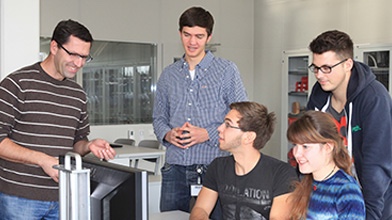 Before you decide on a career, you want to be certain that it is the right one. During a voluntary internship or school internship (OIB/BORS/BOGY), you can learn about different career profiles and get a sneak peak at your future profession. Please see the corresponding descriptions of the positions for the possible school internship timeframes.
Ausbildungs- und Studiennavigator
Are you not yet sure which training or degree program interests you? Use our training and study navigator for orientation. Simply answer the four questions below.