XP+ planetary gearbox
XP+ planetary gearbox with smooth shaft

XP+ planetary gearbox with pinion and slotted holes
Perfection in new dimension
The XP+ with specially designed output and extremely compact design offers new dimensions in power transmission that far exceed industry standards. The XP+ impresses with the highest torque density in the market – coupled with maximum torsional rigidity and titling moment capacity,
Shorter cycle time because acceleration is maximized
Higher permissible masses and process forces
Smoother running and higher repeatability
Implementation of high precision linear systems
Installation space savings through downsizing
Please contact your responsible sales engineer or contact us for further information or CAD datas via mail info@wittenstein-alpha.com.


Downloads
Excellent torque density and rigidity reduce your cycle duration
Highest quality standards guarantee a long service life and extend maintenance intervals.
The right-angle gearbox with very high breakdown torque capacity allows new machine concepts, for example a bearingless design.
Constant low backlash over the entire service life of the gearbox coupled with high torsional rigidity enables the highest levels of positioning accuracy.
Extremely reliable gearboxes prevent cost-intensive machine breakdowns.
The XP+ provides the highest torque density compared to the industry standard, enabling a smaller size to be used.
The XP+ compared to the industry standard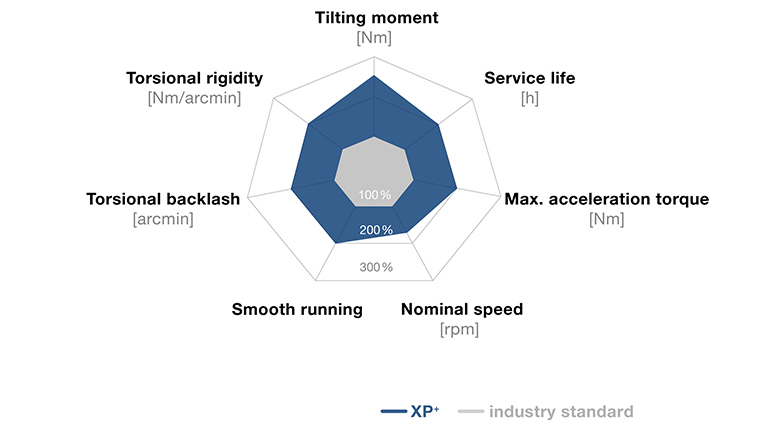 XP+ – Your Xtra productivity, precision and space saving
Are you looking for a gearbox far exceeding industry standards in terms of torque, breakdown torque capacity and torsional rigidity?
The XP+ in the alpha Premium Line offers numerous technical benefits that improve performance several times over, for example with very short cycle times and optimal controllability of your drive axis. This compact "powerhouse" also gives you the option of reducing the installation space still further.
WITTENSTEIN alpha in all axes
Low backlash planetary gearboxes
WITTENSTEIN alpha develops complete, single-supplier solutions for any driving axis. They can be used in virtually any application – from high-precision axes in manufacturing systems to packaging machinery where maximum productivity is required.
The name WITTENSTEIN alpha is a byword for premium quality and reliability, high precision and synchronization accuracy, highest power density, a long lifetime and very simple motor mounting.